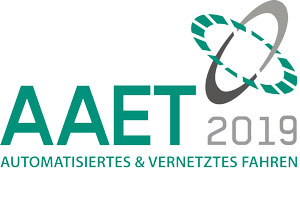 Manufacturers, developers, suppliers, as well as operators of systems, devices, components, software and services will present their offers in this conference, providing you with the opportunity to establish various contacts with the participants. Make sure to attend the presentation "Designing ego-motion and localization interfaces for highly automated driving" by our EB representatives Dr. Sebastian Ohl and Henning Sahlbach and learn about sensor fusion, automated driving, positioning and ego-motion.
Braunschweig, Germany
February 6 - 7, 2019
EB presentation

The iVT Expo showcases the components, services and technologies that go into making the next generation of industrial vehicles in four specialized conferences. In the "Autonomous Industrial Vehicle Technology Conference", Christian Hering, Product Manager for automated driving at EB, will speak about "Map data as an essential element of the HAD sensor set". Christian Stellhorn, Product Manager for user experience at EB, will present "Multimodal HMI development" at the "Industrial Vehicle Cab Design & Technology Conference". Also make sure to meet us at our booth #1015 and get to know more about our products.
Cologne, Germany
February 13 - 14, 2019
EB booth #1015, EB presentations

The Mobile World Congress (MWC) in Barcelona is the world's largest mobile event and has gained a lot of importance for the automotive industry in the past few years. Leading companies and attendees from around the globe will discuss the newest developments and innovations evolving around Intelligent Connectivity. Save the date now and don't miss out on meeting EB at our booth Hall 6 / B 50!
Barcelona, Spain
February 25 - 28, 2019
EB booth hall 6 / B 50

The 21st Technical Congress of the VDA is focused on the future of the automobile and addresses topics such as automated driving and connectivity. In his presentation "The challenge of validating automated driving: cloud-based simulation and test", Martin Schleicher, Executive Vice President at EB, introduces our approach to a comprehensive toolchain to overcome the various challenges ahead, migrating a huge part of the required test kilometers into the virtual world.
Berlin, Germany
March 14 - 15, 2019
EB presentation
Software for the automotive industry